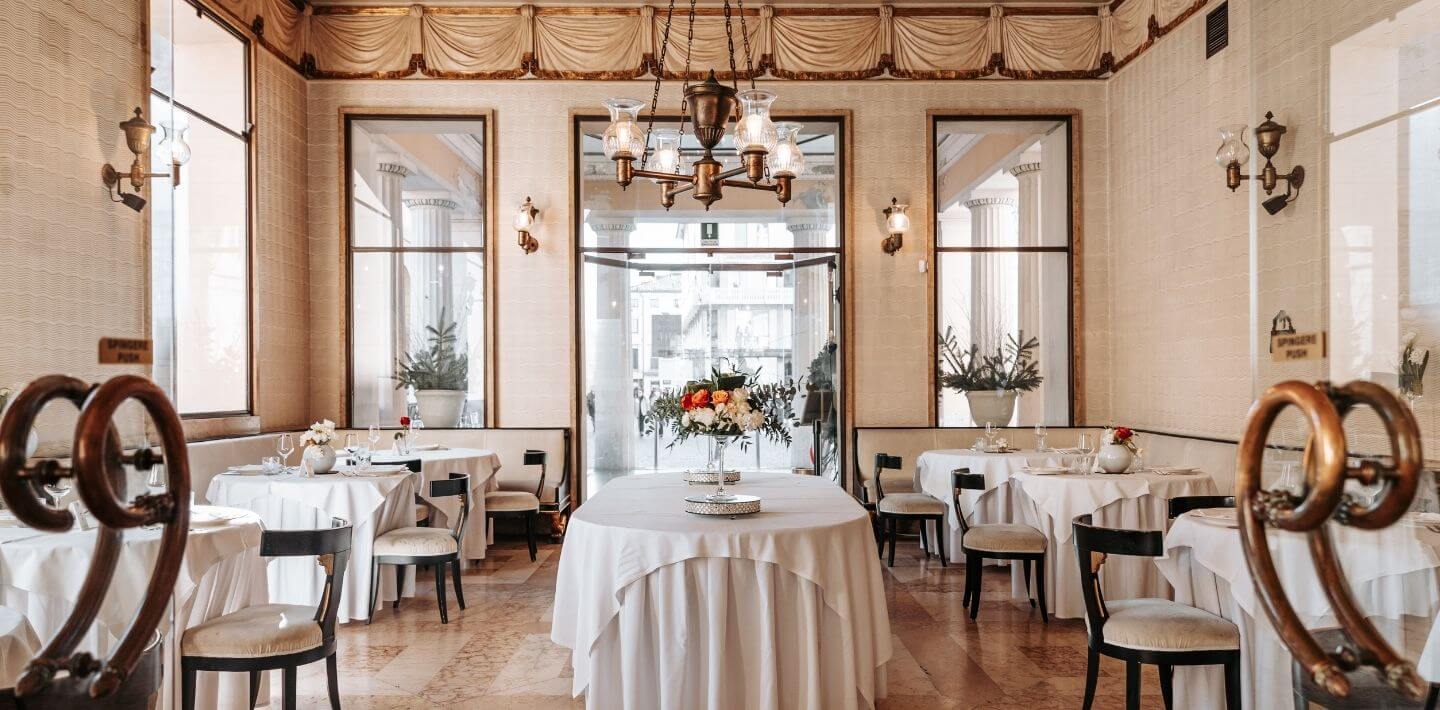 CAFFÈ PEDROCCHI: SURREAL CONTEMPORANEITY IN PADUA
For the citizens of Padua there are no secrets, but for the "foreigners" who happen to be in the city, the Caffè Pedrocchi certainly represents something unique of its kind with its original architectural imprint.
Caffè Pedrocchi is a building designed by the Venetian architect Giuseppe Jappelli, called by the owner of the café Antonio Pedrocchi to design the new face of the block. Antonio Pedrocchi inherited an old café from his father Francesco born in Bergamo and, after having acquired the entire block with entrepreneurial skill, commissioned the architect Jappelli to build the new Padua café in 1816.
In 1831, finally completed, the work looked like this: a unitary shape in the neoclassical style of a "piano tail". An eclectic palace with references to the Greek, Etruscan, Roman, Pompeian style: a sum of styles. Finally, on the south side, a neo-Gothic façade was added, which today corresponds to the café patisserie. In 900 it was called "the café without doors" because it remained open day and night.
Over time it became a meeting place for intellectuals, academics, writers and enlightened people. Just to name a few, Stendhal, Ippolito Nievo, Eleonora Duse, Gabriele D'Annunzio and Filippo Marinetti took part in the life of the café.
But let's enter the cafeteria, which has few other places that match it in historical value. On the ground floor we find the three main rooms: the White Room, the Red Room and the Green Room. Upstairs the rooms become ten and are decorated with different styles: Etruscan, Greek, Roman, Baroque, Renaissance, Gothic-Medieval, Herculaneum or Pompeian. The Rossini Room is the largest one, and is dedicated to Rossini and Napoleon. Finally, the very small Moresca room and the Egyptian room. 
Today, in addition to the Cafeteria, the Pedrocchi coffee, which has become the property of the Municipality of Padua, houses the "Museum of the Risorgimento and of the Contemporary Age".